After a 45-year storied career in women's basketball, Mickie DeMoss, Georgia Tech women's basketball's chief of staff, has announced her retirement. DeMoss has spent the last three years as chief of staff for the Yellow Jackets, helping guide Georgia Tech to a pair of NCAA Tournament appearances.
"Coaching women's basketball has been an amazing life journey for me," DeMoss reflected. "I have been blessed to have worked with so many amazing coaches, players and talented staffs during my career. The relationships that were formed through my 45 years of coaching are all a piece of who I am today.
"I have been fortunate to have coached in some very special places, travel the world and experience some championships along the way. The most impactful stop in my career was at the University of Tennessee where I worked beside legendary coach Pat Summitt for 20 years. I will always be grateful for the influence that she had on my life and my career.
"I want to give special thanks to Georgia Tech, Nell Fortner, the staff and players for the opportunity to finish out an outstanding career. I will continue to be an advocate for women's basketball and look forward to the continued growth of our game."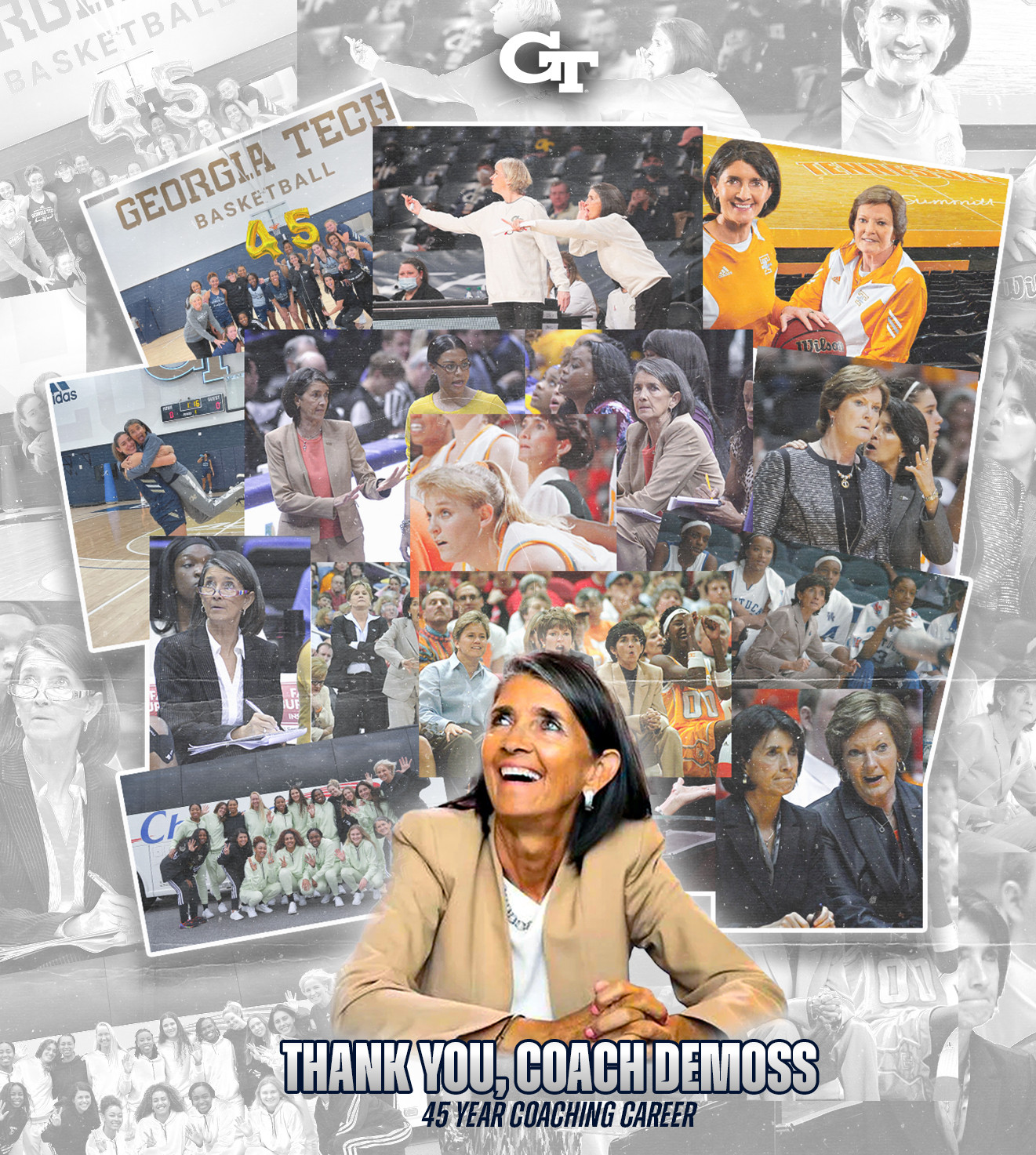 In her professional career, DeMoss has had stops at both the collegiate and professional levels, won six National Championships, a WNBA Championship and served as a valuable resource to numerous programs. She has been a part of over 30 postseason appearances and helped mentor a plethora of student-athletes on and off the court.
In her legendary career promoting the game of women's basketball, DeMoss has made an impact on programs at Memphis State, Florida, Auburn, Tennessee, Kentucky, Texas, LSU, Vanderbilt and Georgia Tech at the collegiate level. She served as an assistant coach with the Indiana Fever at the WNBA level from 2012-13.
"What a phenomenal basketball career Mickie DeMoss has had over the past 45 years," said Georgia Tech women's basketball head coach Nell Fortner. "Not only was she an outstanding coach, but she touched so many lives through her personality, humor, tremendous knowledge of the game and ability to relate to players and coaches.
"There are a lot of wins under her belt – a Women's Basketball Hall of Fame recognition and several championships – but one thing that stands out to me is her ability to relate to people of all ages and backgrounds. That was and still is her super power! She could relate to kids so well which enabled her to teach, make her point and get kids to do what they never believed they could do and have fun at the same time. You can look at all the winning numbers, but at the end of the day, her personality and ability to draw out the best in others is unmatched by any other coach I've ever been around."
DeMoss' impressive resume includes 20 years as an assistant and associate head coach under Pat Summitt at the University of Tennessee, four seasons as head coach at the University of Kentucky (2003-07) and four seasons as the first full-time head coach at Florida (1979-83). She has served as Georgia Tech's chief of staff since 2019 after holding a staff position at Vanderbilt in 2018-19, assisting in offensive analytics.
Prior to her stint at Vanderbilt, she spent two seasons as an assistant coach at LSU (2016-18) following two successful seasons as the associate head coach at her alma mater, Louisiana Tech University (2014-16), marking her return to the collegiate scene.
DeMoss took a break from the college ranks in 2012 and 2013, serving as an assistant coach with the Indiana Fever, helping the franchise to a 2012 WNBA Championship under then-head coach Lin Dunn.
DeMoss held her second stint at Tennessee from 2010-12 as an assistant coach, concluding her 20-year career with UT – 1985-2003 and again from 2010-12. During her second stay at UT, she helped lead the program to a pair of NCAA Tournament Elite Eight appearances and back-to-back regular season and conference tournament championships. In her first stint with the Lady Vols, the program won six national titles and recorded 12 trips to the Final Four, while amassing a 554-77 (.878) overall record. DeMoss was promoted to associate head coach in 2000, filling the role for three seasons before leading her own program as head coach at Kentucky.
In four seasons as head coach at Kentucky (2003-07), DeMoss was named the 2006 SEC Coach of the Year, put together consecutive 20-win seasons and made three postseason appearances (one NCAA and two WNIT).
From 2007-10, DeMoss served as an assistant coach at the University of Texas, helping the Longhorns to three NCAA Tournament berths. She then returned to Tennessee to serve on Summitt's staff for the final two seasons of the legendary coach's career with the Lady Vols.
Prior to first joining the Tennessee staff in 1985, DeMoss had been an assistant coach at Auburn (1983-85), a head coach at Florida (1979-83) and an assistant at then-Memphis State (1977-79).
DeMoss is a 1977 graduate from Louisiana Tech where she was a player on the inaugural women's basketball team in 1974 at the school, lettering for the first three years of the program's existence. She earned a master's degree in education from Memphis State in 1979.
A career advocate for the game of women's basketball, DeMoss was inducted into the Women's Basketball Hall of Fame in 2018 as a contributor – assistant coach.
https://ramblinwreck.com/mickie-demoss-announces-retirement/