By AJ Nelson, WHoopDirt.com staff writer
Congratulations to the following coaches who have been selected as the Week 11 WHoopDirt.com Coach of the Week presented by Pivot Analysis. These coaches are now eligible to receive the WHoopDirt.com National Coach of the Year Award presented by Pivot Analysis which will be announced at the conclusion of the 2019-20 college basketball season.
To nominate coaches for future weeks, please email [email protected] with your selection(s).
Previous weekly winners can be found below this week's recipients.
The Week 11 winners are:
---
NCAA DI: Brenda Frese – University of Maryland
Coach Frese's Terrapins picked up a three of impressive Big 10 wins this week as they improved to 16-4 on the season. Maryland began the week at home vs #17 Indiana where they opened the game on an 8-0 run, and never looked back en route to a 76-62 win. They then traveled to Illinois on Thursday, where they dominated the Illini, coming away with a 79-60 victory. They closed out the week with a home match-up against then No. 22 Northwestern, who entered the game having won five straight. Trailing by two at the half, Maryland used a big third quarter to win by a score of 70-61 for their fourth triumph over a top-25 opponent in the last month. Now 7-2 in the Big 10, the Terrapins will look to pick up their sixth consecutive victory when they face off against Ohio State on the road on Thursday.
---
NCAA DII: Darrell Mosley – Lincoln University (PA)
With two more wins this week, Coach Mosley and Lincoln University have already surpassed last year's win total. The Lions, who received votes in the latest WBCA Top-25 Poll, opened the week with an impressive defensive showing, forcing 30 turnovers on the way to a 69-43 home victory over Elizabeth City State University on Monday. Lincoln was back in action on Saturday, taking on Bowie State, who entered the match-up with a record of 16-2 and also had received top-25 votes. Despite a late run by the visitors, the Lions were able to hold on and come away with a hard-fought 63-59 triumph. The win was the fifth straight for Lincoln, who is 18-3 (8-1 CIAA) on the season. With 18 wins, the Lions now have the third highest win total in program history.
---
NCAA DIII: Grahm Smith – William Peace University (NC)
A pair of closely contested road wins extended William Peace's winning streak to 12 in dramatic fashion this week. On Saturday, Coach Smith's squad trailed NC Wesleyan by two at the half before using a strong second half to take a 77-71 victory. In their next match-up, the Pacers were down by nine to Greensboro entering the final quarter, but a late rally saw William Peace outscore the home team 23-11 in the fourth and come away with a 66-63 win. These two victories were just the fourth and fifth of the season by single digits (17 overall), and they improved the Pacers to 17-2 (10-0 USA South) on the season. William Peace will look to make it 13 straight wins as they hit the road again to take on Pfeiffer University on Wednesday night.
---
NAIA: Jina Douglas – Hastings College (NE)
This week, Coach Douglas' squad tied the Hastings program's longest winning streak in history, as they picked up two more dominant victories. The No. 2 overall Lady Broncos began their week with a 82-58 defeat of 12th ranked Dakota Wesleyan on the road on Wednesday. They returned to their home court on Saturday and blew out Briar Cliff by a score of 78-54 to improve to 22-0 on the season. The 22 consecutive victories ties the 1992-93 team for the program's most wins in a row. Another tough match-up awaits the Lady Broncos on Wednesday, as they will host No. 7 Morningside with a chance to break the record.
---
JUCO: Stacey Franklin – Chattanooga State Community College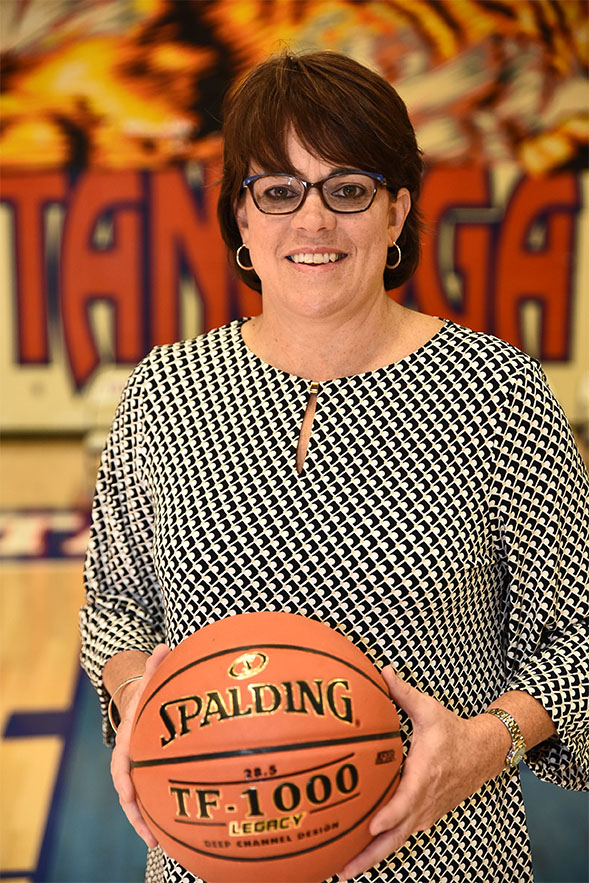 Coach Franklin's Lady Tigers snapped a long-standing streak of an opponent this week in one of two impressive victories. On Wednesday, Chattanooga State traveled to play Walters State, who had won 55 straight conference games dating back to January of 2017. The Lady Tigers trailed by 11 midway through the third quarter, but rallied to force overtime, where they came away with a stunning 61-60 victory. They followed up this huge win with an 84-43 blowout of Southwest Tennessee to improve to 16-5 on the season. Chattanooga State will look to make it five straight wins when they take on Gadsden State at home on Wednesday.
---
2019-20 HoopDirt.com / Pivot Analysis Coach of the Week Winners
NCAA DI: Dawn Staley – University of South Carolina
NCAA DII: Justin Payne – Georgia Southwestern State University
NCAA DIII: Melissa Kuberka – St. John Fisher College (NY)
NAIA: Courtney Boyd – Clarke University (IA)
JUCO: Bart Walker – Northwest Florida State College
NCAA DI: Dawn Plitzuweit – University of South Dakota
NCAA DII: Lynsey Warren – Ohio Dominican University
NCAA DIII: Kristina Baugh – UMass-Boston
NAIA: Dan Waldeck – The Master's University (CA)
JUCO: Mark Leszczyk – Massasoit Community College (MA)
NCAA DI: Karl Smesko – Florida Gulf Coast University
NCAA DII: Steve Gomez – Lubbock Christian University
NCAA DIII: Meg Barber – New Your University
NAIA: Jeff Hans – Thomas More University (KY)
JUCO: Cayla Petree – South Plains College (TX)
NCAA DI: Bethann Shapiro Ord – Binghamton University
NCAA DII: Molly Miller – Drury University (MO)
NCAA DIII: Andy Yosinoff – Emmanuel College (MA)
NAIA: Steve Williamson – William Penn University (IA)
JUCO: Kim Muhl – Kirkwood Community College (IA)
NCAA DI: Gary Blair – Texas A&M University
NCAA DII: Missy Traversi – Adelphi University (NY)
NCAA DIII: Mahogany Green – Hamilton College (NY)
NAIA: K.C. Bassett  – Sterling College (KS)
JUCO: Stephanie Murphy – Coahoma Community College (MS)
NCAA DI: Karen Alston – University of Texas
NCAA DII: Deandra Schirmer – Valdosta State University (GA)
NCAA DIII: Nick DiPillo – University of Scranton (PA)
NAIA: Tim Hays – Southeastern University (FL)
JUCO: Marcilina Grayer – Salt Lake Community College (UT)
NCAA DI: Rebecca Tillett – Longwood University
NCAA DII: DII Winter Break Week – No Winner
NCAA DIII: Jill Pace – Tufts University (MA)
NAIA: Dennis Hutter – Mayville State University (ND)
JUCO: Mike Seney – Community College of Baltimore County – Essex
NCAA DI: Quentin Hillsman – Syracuse University
NCAA DII: Jason Burton – Texas A&M University – Commerce
NCAA DIII: G.P. Gromacki – Amherst College (MA)
NAIA: Hannah Moeller – Mid-American Christian University (OK)
JUCO: Mary "Roonie" Scovel  – Gulf Coast State College (FL)
NCAA DI: Kim Mulkey – Baylor University
NCAA DII: Reid Takatsuka – Hawaii Pacific University
NCAA DIII: Jon Herbrechtsmeyer – Bethel University (MN)
NAIA: Sue Syljebeck – Siena Heights University (MI)
JUCO: Brian Ortmeier – Laramie County Community College (WY)
NCAA DI: Kelly Graves – University of Oregon
NCAA DII: James Rice – Benedict College (SC)
NCAA DIII: Jennifer Reimer – Case Western Reserve University (OH)
NAIA: Bo Overton – Oklahoma City University
JUCO: Dave Kragel – Walters State Community College (TN)
---
Pivot Analysis is the market leader in college basketball advanced stat generation and visualization. Their products make it easy to identify optimal lineup rotations, scout an opponent's strengths and weaknesses, evaluate a player's impact on the team, and identify prospects for the next level. Visit us at www.pivotanalysis.com to learn more about how our tools can be used to save you time and effort.
WHoopDirt.com is the largest website in the country dedicated specifically to women's college basketball coaching news, jobs, and rumors at all levels. WHoopDirt.com brings a unique insider perspective to the world of college basketball coaching – it was founded by college coaches as a way to help the college basketball community stay informed of what is going on in the coaching profession.